2021 UMCVB Fall Conference
About UMCVB
Attendees for this unique conference come from Convention and Visitors Bureaus, Chambers of Commerce and Tourism Departments from an eight-state region that includes Illinois, Iowa, Minnesota, Missouri, Nebraska, North Dakota, South Dakota, and Wisconsin. Surrounding states in the Midwest are always welcome to attend as well. You'll learn new skills and industry trends through dynamic educational sessions. You'll also enjoy abundant networking opportunities with your colleagues throughout the Upper Midwest.
---
2021 UMCVB Virtual Spring Summit
Thank you for joining us at the first ever UMCVB Virtual Spring Summit! We hope to offer the Spring Summit again in 2022.
---
2021 UMCVB Fall Conference
Date: September 13-14, 2021
Location: Des Moines, IA
Cost: $250 for individual/general attendee, discounted price of $145 for additional attendees in your group/organization.
Stay up-to-date with the schedule by visiting our event website.
---
Hotel Accommodations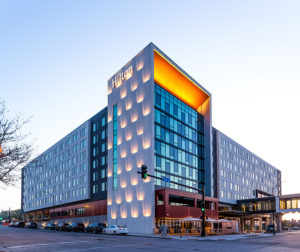 Lodging will be available at the Hilton Des Moines Downtown, 435 Park St., Des Moines, IA. Room rate for the 2021 Upper Midwest CVB Conference is $129+ taxes/night.
To book your room follow this link or call the hotel at 1.515.241.1456 and give the group code: UMC2.
---
---
About Des Moines, Our 2021 Host City
DES MOINES: WHERE THE S's ARE SILENT! Guess which metro area is the fastest-growing in the Midwest? (Spoiler alert, it's in the headline.) And while Des Moines is still under some people's radar, their converts have a hard time keeping a secret. Visitors rave about their iconic festivals and events, farm-to-fork cuisine, 800 miles of hiking and biking trails, and more.
Des Moines is also America's #1 minor league sports market where you can catch a rising star—or a hot dog—at any one of their marquee events. And as a major art destination in the Midwest, Des Moines is living proof that sometimes the best art doesn't come in a frame. From thrill rides to chill vibes, catch what you've been missing.
TOP 10 REASONS TO CATCH DES MOINES
---
Transportation
Whether it's by air, train, bus or car, traveling to Des Moines is easy from afar! Download the Des Moines Transportation Document to begin planning your trip!
---
Parking
The Hilton Des Moines Downtown has on-site, self parking available for $18/night. Parking is limited on-site.
For a more budget friendly option or if parking is full on-site, the 5th & Keo Parking Ramp is just 1.5 blocks away and connects via skywalk entrance to the Hilton. Parking at 5th & Keo is $10/night.
---
---
Exhibitors/Sponsorship Opportunities
Gain valuable exposure for you and your company with an excellent opportunity to network with CVB and tourism professionals from an eight state region! Contact Erin Bowers today at erin@umcvb.com or call 800.274.8774 x711 for complete sponsorship details. Visit our sponsor information page for more information.
Bruce McDaniel Industry Awards
Has your Bureau done something worth bragging about? Nominate your organization for the Bruce Riley McDaniel Bureau Innovation Award.
Does someone you know in your field deserve recognition? Then you'll want to honor this person by nominating them for the McDaniel Individual Professionalism & Lifetime Achievement Award.
Bill Geist Award
Does your CVB have an emerging leader? Nominate a young professional that achieves and exemplifies great leadership for the Geist Up & Coming Hospitality Leader Award.
Cole Carley Scholarship Program
This scholarship program, in honor of Cole Carley, is designed to help fund the registration costs for one person to attend the annual UMCVB Fall Conference. The program consists of one free registration to the conference plus up to $500 in reimbursable travel expenses.  Apply for the 2021 Cole Carley Scholarship Program. Applications closed for the 2021 Fall Conference.
For a list of past award and scholarship recipients, click here.